UNION DAY SCHOOL

A warm and loving environment where all children can learn and grow in God

About Union Day School

In partnership with the congregation of Union United Methodist Church, the community and the parents of our children, the mission of Union Day School, is to enable all children to be in a secure, caring and nurturing Christian environment. This is accomplished by providing developmentally appropriate activities, challenging instructional programs characterized by innovative teaching, active learning, and anti-bias curriculum for all God's children.
The purpose of Union Day School is to give children their first exposure to education and social development within a Christian environment; to make available to each child a wide variety of educational experiences to meet his individual needs at his own developmental level; and to socially guide the child to respect others while striving for personal excellence. In order to accomplish these goals, the essential element is an atmosphere in which to promote a strong Christian foundation on which to build a future. Union Day School is a ministry of Union United Methodist Church. We are thankful for the opportunity to extend our ministry in the area of our Day School education.
Prior to becoming Director in 2019, Kathy was the assistant director since 2006 and before that she taught the 5-year-old kindergarten class for ten years. She holds a B.A. degree in Business and Early Childhood Education, and a Master's Degree in Elementary Education all from Columbia College. Prior to coming to Union, Kathy taught in Lexington-Richland School District Five and earlier served as Director of the Kindergarten at Columbia College. Kathy is married to Allen Horne and they have two grown children who are both Union graduates. In her free time Kathy likes to read and shop.
Our education philosophy is based on Learning Through Play, a hands-on experience through which every child can enter the playing field of life with a strong self-esteem, a cooperative spirit, a sense of creativity, and a joy of learning. We are proud to help develop the game plan for your child.
7582 Woodrow Street

P.O. Box 705 Irmo, SC 29063
Monday - Friday

7:30 a.m. - 2:00 p.m
Director Union Day School

Contact Us

1 & 2 Year Olds - 2/3 Days
2 day: $165
3 day: $185
*Price does not include the annual supply/activity fee of $130 for 3 day students and $110 for 2 day students.
3 Year Olds - 3/4/5 Days
3 day: $185
4 day: $215
5 day: $245
*Price does not include the annual supply fee of $160 for 5 day students, $145 for 4 day students and $130 for 3 day students.
4 Year Olds - 4/5 Day
4 day: $215
5 day: $245 *Price does not include the annual supply fee of $160 for 5 days students and $145 for 4 day students.
5 Year Olds - Kindergarten
5 Days: $350
*Price does not include the annual supply fee of $160.

1. Check For Open Enrollment
If you're a current Union Church member or currently enrolled family, you may register for the next year on February 22, 2022

If you are enrolling for the first time, you may register beginning February 28, 2022.

2. Fill Out The Registration Form
Fill out the registration form based on your child's birthday. Click on the hyper link below to get the form.
Your Child's Date Of Birth
09.02.15 – 09.01.16
09.02.16 – 09.01.17
09.02.17 – 09.01.18
09.02.18 – 09.01.19
09.02.19 – 09.01.20
Required for new studentStatement of Child's Health
New Student
3. Pay The Registration Fee

Registration fee is $150 for non Union church members, $100 for current Union church members. Registering multiple children for same school year, $150 for first child, $75 for siblings.
This fee is payable at the time of registration and is your financial commitment to hold your child's place until school begins. Registration fees are non-refundable/non-transferable.
4. Start Learning
The director will be in communication about your child's start date.
All Day Tuition/Fees Begins August 2022

Monday-Friday Hours 7:30 a.m.-6 p.m.

6 weeks to 24 months of age.
5 Days: $850 per month

*Price does not include the annual supply fee of $160.
Non-Refundable Registration Fees
$150 per Child $75 for siblings$100 for Union Church Members
$50 for Union Church Members Siblings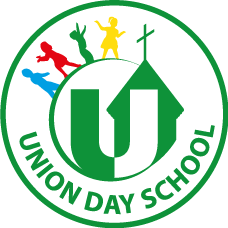 We Invite You
To The Open House At Union Day School
January 30th, from 2:00-4:30 p.m.
Union Preschool is expanding to become Union Day School. For 48 years, Union Preschool has provided an excellent part-time preschool ministry for our church and community. Union United Methodist Church is preparing for Union Day School's full time and part time program that will begin August, 2022. We would like to invite you to our Open House for both part time and full time Union Day School Sunday, January 30th, from 2:00-4:30 p.m. All interested parents for the programs can come to the Family Ministry Center (FMC) the side entrance, off the perimeter road, nearest the Blessing Box. There you can meet with Union Day School Task Force members and Director Kathy Horne to ask questions and take a tour of both a. Signs will designate the entrance.
Registration opens February 22, 2022 for Currently Enrolled Families and Union Church members. February 28, 2022 is open registration for all community members. Applications for open registration will not be accepted until February 28, at 7:30 a.m. All registration forms will be available online and completed registration forms should be submitted with cash or check, for the registration fee, to the Union Day School Office in the Wesley Center. Registration will be accepted on a first come, first sever bases as space allows.
Union Day School has a reputation of being an outstanding preschool and kindergarten and this tradition continues with excellent staff and church support. Union Preschool now Union Day School has been named one of the "Best Private Schools" in our area.