UNION DAY SCHOOL

A warm and loving environment where all children can learn and grow in God

About Union Day School

In partnership with the congregation of Union United Methodist Church, the community and the parents of our children, the mission of Union Day School, is to enable all children to be in a secure, caring and nurturing Christian environment. This is accomplished by providing developmentally appropriate activities, challenging instructional programs characterized by innovative teaching, active learning, and anti-bias curriculum for all God's children.
The purpose of Union Day School is to give children their first exposure to education and social development within a Christian environment; to make available to each child a wide variety of educational experiences to meet his individual needs at his own developmental level; and to socially guide the child to respect others while striving for personal excellence. In order to accomplish these goals, the essential element is an atmosphere in which to promote a strong Christian foundation on which to build a future. Union Day School is a ministry of Union United Methodist Church. We are thankful for the opportunity to extend our ministry in the area of our Day School education.
We are excited to have Helen Kline join the Union staff. The Lord led her to Union Day School to begin a new journey with our families in June 2022. Helen is an alumna of the University of South Carolina and is an avid Gamecock fan. She holds degrees in Business Administration with a major in Organizational Behavior Management and Early Childhood Care and Education. She has additional credentials in directing and special needs and is a certified technical assistance provider with SCEndeavors, the training and development department of DSS. She has over 20 years of experience in directing in a variety of early childhood settings including prior experience in several faith-based schools.
Our education philosophy is based on Learning Through Play, a hands-on experience through which every child can enter the playing field of life with a strong self-esteem, a cooperative spirit, a sense of creativity, and a joy of learning. We nurture the whole child in a relationship based Christian environment.

7582 Woodrow Street

P.O. Box 705 Irmo, SC 29063
Monday - Friday

7:30 a.m. - 2:00 p.m
Director Union Day School
Contact Us

1 year olds - 2/3 Days
2 day: $165 per month
3 day: $185 per month

*Price does not include the annual supply/activity fee of $130 for 3 day students and $110 for 2 day students.
3 Year Olds - 3/4/5 Days
3 day: $185 per month
4 day: $215 per month
5 day: $245 per month
*Price does not include the annual supply fee of $160 for
5 day students, $145 for 4 day students
and $130 for 3 day students.
4 Year Olds - 4/5 Day
4 day: $215 per month

5 day: $245 per month

*Price does not include the annual supply fee of $160 for 5 days students and $145 for 4 day students.
5 Year Olds - Morning Kindergarten
5 Days: $350
*Price does not include the annual supply fee of $160.
Fill Out The Registration Form
Fill out the registration form based on your child's birthday. Click on the hyper link below to get the form.
FOR AUGUST 2022:
Your Child's Date Of Birth
All Day
22-23 All Day Registration 2 years

Half Day

Required for new student
DSS 2900 Form
Union Day School Child Forms


Day School Wait List Application


3. Pay The Registration Fee

Registration fee is $150 for non Union church members, $100 for current Union church members. Registering multiple children for same school year, $150 for first child, $75 for siblings.
This fee is payable at the time of registration and is your financial commitment to hold your child's place until school begins. Registration fees are non-refundable/non-transferable.
4. Start Learning
The director will be in communication about your child's start date.
All Day Tuition/Fees Begins August 2022

Monday-Friday Hours 7:30 a.m.-6 p.m.

6 weeks to 2 years of age.
5 Days: $850 per month

*Price does not include the annual supply fee of $160.
Non-Refundable Registration Fees
$150 per Child $75 for siblings$100 for Union Church Members
$50 for Union Church Members Siblings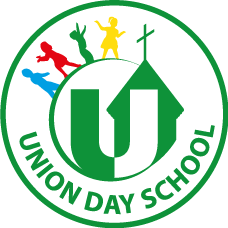 Registration is now open for our:
- NEW TWO-YEAR-OLD FULL-DAY/
YEAR-ROUND CLASSROOM &

- Two-year-old half-day/school-year
Tues./Thurs. class for children who are 2 by 9/1/2022.
Other classes are full or have limited space.
Please inquire at Helen@unionirmo.org regarding openings
in other classes before sending in registration forms.
Union Preschool has expanded to become Union Day School. For 48 years, Union Preschool has provided an excellent part-time preschool ministry for our church and community, and will continue to do so. Union United Methodist Church is expanding to offer full-time options for children ages six weeks to two years of age, which will begin August 2022.

Registration is now open. All registration forms will be available online and completed registration forms should be submitted with cash or check, for the registration fee, to the Union Day School Office in the Wesley Center. Registration will be accepted on a first come, first serve basis as space allows.
Union Day School has a reputation of being an outstanding preschool and kindergarten and this tradition continues with excellent staff and church support. Union Preschool now Union Day School has been named one of the "Best Private Schools" in our area.
New Handbook and Day School Calendars are here!
She lives here in Irmo, with her husband and they have two daughters. Helen is well acquainted with Union's Preschool and even did some class experience here for her degree. Helen comes to us from St. Michael's Early Learning Center in Forrest Acres where she directed from 2017-2022 and grew their program both in number and community. Her love of God, priority of relationships and experience with children make her an ideal choice for this position.

2 year olds - 2/3/5 Days
2 day: $165 per month
3 day: $185 per month

5 day: $325 per month

*Price does not include the annual supply/activity fee of $160 for 5 day, $130 for 3 day students
and $110 for 2 day students.
Amazing Athletes



Amazing Athletes uses sports as a catalyst to meet the needs of the whole child through non-competitive, learning-based fitness classes designed to advance each child's individual motor-skills and inspire future participation in physical activity. Children receive a health lesson about a specific fruit or vegetable of the day and learn its "superpower". They also learn muscle identification. The program covers 10 different sports through-out the school year, so your kiddos won't get bored. Fees are $45 per month and is paid online through Amazing Athletes. Three-year-olds will meet on Thursdays, Full Day Twos will meet on Thursdays, Four and Five- year-old will meet on Fridays.
Children will need to bring a lunch to eat at 12:00 noon. Class will end at 1:05 pm. Children must be picked no later than 1:10 pm.
Extended pick-up option: Children may be picked up later, between 1:50-2:00 pm, for $5.00 per class taken. For example, if there are 4 classes in the month, the extended pick-up fee would be $20.00 for the month. If there are 5 classes during the month, the extended pick-up fee would be $25.00. The drop-in fee is $10.00/day and must be paid that same day by 11:00 am.